With our mobile phones constantly to hand, it begs the question what are the best apps for house buyers in the UK?
After all, we do almost everything with our mobiles now from watching the latest Netflix series through to banking and shopping.
Why shouldn't we use apps to help us find our dream property?
Yet despite this, finding good quality apps for house hunters in the UK can be tricky.
However, with a little digging, there are still some gems to be found.
We've used lots of different apps during our various househunting missions. So, let's share with you what we've found to be the best apps for house buyers in the UK…
1) Rightmove
It's the largest, most popular property portal in the UK for good reason with over 130 MILLION visits every month. Their app doesn't disappoint and is the 'go-to' app for many house hunters.
Not only will you get listings for every property that's up for sale on the normal Rightmove website, but you'll also be able to access information on schools and stations near each property.
It's essentially a handy, mobile optimised version of the website in app form.
When you log in to your Rightmove account, you can save properties as favourites, and they'll appear whether you're logged in to the app or the main website.
We have used the Rightmove app for most of our house hunts. It's really useful, mostly because you can save any properties you like the look of to your favourites list.
One thing we really liked was that we could both look at properties and save the ones we liked. We then compared our favourite lists, to get to a list of potential properties that we both liked.
We found this a very efficient way to look for a new home as a couple. One thing I would say though, is that it is always worth looking at each property on a laptop or computer before you decide whether to view or to dismiss it.
That's because you want to see the pictures of the houses on a big screen, rather than on the dinky phone screen. This will give you a better feeling of the room sizes.
One thing we would like to see in the Rightmove app is the ability to rank the saved properties by favourite. You can rank them by price or the date it has been added, both of which are helpful.
But we found that it can be annoying if you have to scroll through a rather big list of houses to find the ones you like the best. Especially if you want to check that they are still available.
And that's what the app is really useful too: to keep an eye on the properties that you really like, in particular if you aren't precededable yet, because you are still waiting to get an offer on your home.
All in all though, we can recommend the Rightmove app as a great tool to keep on track with your house hunt.
2) Zoopla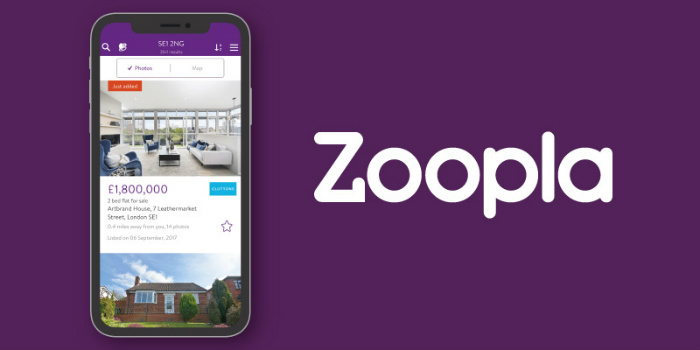 Another one of the property portal giants, Zoopla is well worth installing for the sheer number of property listings it has.
However, it goes further than that as there's a really neat feature that allows you to use GPS technology to see properties for sale as you wander around an area.
Plus, you'll get the usual Zoopla property value reports and the option for managing the details of your existing home.
Like the Rightmove app, you can also save the properties you like and easily share them with friends and family.
We used Zoopla a little bit during our househunting. However, we have to admit, we preferred Rightmove and only used Zoopla to try and catch any properties that weren't listed on Rightmove.
However, one thing we found Zoopla really useful for was checking the value of houses. While they only give rough estimates, it helped us see if a property might be under or over-priced before we viewed it.
3) AroundMe
If you're moving to an area you're not overly familiar with then this little app can be invaluable.
Wherever you are it will show you all of the useful shops, restaurants, and services (such as ATMs) in the local area.
You'll get maps, distances, and even reviews of the local amenities.
That makes it great for checking out what's close to a property you're interested. Although we've found we use it far more regularly than just when property hunting!
One of the best uses we've found is for finding the nearest ATM when you're out and about and needing cash. While most places accept card now, living in a rural setting means we still often encounter places that are cash only.
4) Mortgage Calculator UK
Available on: iOS
Before you can start looking at which properties you may wish to buy you need to work out your maximum budget.
Unless you have a stash of savings, that means you'll need a mortgage.
This app may not look the best, but there's plenty going on behind the scenes that makes it incredibly useful nonetheless.
In short, you can quickly check how much a mortgage will cost you on a monthly basis and how much it could cost if interest rates rise quickly.
Plus, you can easily click to talk to expert mortgage advisors with just a single click.
5) PlaceBuzz

Available on: iOS (Android app coming soon)
This might be the third property search app to make our list, but this one has a key advantage.
Placebuzz combines the properties listed on all the major property portals into one single app.
That means it could be the perfect solution if you want to check all the portals but don't want to install multiple apps.
It also has Google street view built-in and you can receive push notifications as soon as a property that matches your search settings comes on the market.
6) Room Planner: IKEA Home Design
When looking at a property it's important you use your imagination to envisage how the rooms will look once you move in.
That means you need a little foresight to see what you could potentially do to a room to make it your own.
This app allows you to plan your new home room by room using IKEA furniture.
It's not just great for playing with layouts before buying a property; you'll be using it long after you've moved in too!
We love this app, because it can give you a good idea of what a room could look like. If, like me, you aren't good at picturing how different furniture or colours would look in a room, this app is great.
And you don't necessarily have to buy IKEA furniture in the end; it's just a great way to get creative and make the house our home. For us this makes it definitely one of the best apps for house buyers in the UK.
7) Crime Map England & Wales
Available on: iOS
The final app to make it on to our list is the Crime Map for England & Wales (sorry Scottish visitors!).
If you're moving to a new area, understanding the dynamics of local crime is essential. That will allow you to avoid potential crime hotspots.
This app lets you see real crime statistics for any area in England & Wales and pinpoints specific crimes on a map, so you can see what's happening and where.
It's particularly useful in cities where crime levels can vary dramatically from one street to another. We found it useful when scouting out areas we weren't familiar with as we could get a good idea if they were relatively safe or not simply by using this app.
So, there we have it, our 7 best apps for house buyers in the UK!
Keep in mind there are always new apps coming out, so it's worth checking back every now and again to see how the list evolves.