If you're considering moving house, or your home is already up for sale, the following list of 101 ways to sell your house faster will be right up your street.
In many cases, implementing as many of these suggestions as possible will also increase the likelihood of you achieving a higher sales price too! It's a win-win!
Prefer a checklist you can print and keep?
Internal Improvements
There are a number of improvements you can make to the interior of a property to help give it that 'wow' factor and ensure it will appeal to more buyers.
1. Paint Old Wall Tiles – Dated bathroom or kitchen tiles can easily be given a fresh, new look with a lick of tile paint. You'll need to clean and sand the tiles first, then apply both primer and tile paint to get the best results. Multiple coats will probably be needed, but it'll be worth it.
We have done that in one of the houses we sold over the years. The kitchen looked quite tired and also old-fashioned. By painting the tiles, we could make the room look more modern without spending too much time and money.
2. Refresh Grouting – The grouting between tiles can soon become discoloured and stained over time. If the grouting is otherwise in good condition, a grout pen can be bought for just a few pounds to repaint the grouting and make it look clean and fresh again.
No matter how much you clean, sooner or later the grouting, especially white grouting, will discolour. We have seen it again and again. So before we put any house on the market, we refresh the grouting.
Sometimes using a grout pen worked fine. But we also found that the seal around the shower on the bottom often gets discoloured. You can't use a grout pen for this. However, it's not very difficult to remove the existing deal and replace it. The difference it makes is mind-blowing.
3. Repaint Walls In Neutral Colours – Houses with neutral decor tend to sell faster than those with unusual or strong colours. That's because they are more broadly accepted and make it easier for people to imagine themselves living there. Repaint any walls that are particularly strong with more neutral colours.
We love feature walls. Whenever we redecorate, we paint one wall in a different colour. But when it comes to selling the house, we know it might put some people off. So we spend a few weekends before we put the house on the market painting our features walls with more neutral colours.
Often we might still have some paint left over from when we did the room. So we just paint the feature wall in the same colour as the other walls. We tend to have non-feature walls in more neutral colours.
But even if not, a tin of paint doesn't cost much, but it will have a big impact.
4. Change The Carpets – Old carpets can make houses feel dated and uncared for, they can even make rooms feel smaller and darker. Swap any dated carpets for fresh neutral ones to give a room an instant lift.
Carpets can be expensive, so whenever we decorate a room, we choose one that won't look outdated. This means we keep away from most colours and any patterns. Shades of grey, brown and beige are best for a timeless look in our experience.
5. Install A Log Burner – Log burners are very much 'in' at the moment as people love the idea of sitting by a fire on a cold winter's night.
With the ever-rising cost of gas and electric, they are seen as a good way for homeowners to reduce energy bills, making log burners an attractive addition for potential buyers.
6. Create A Kitchen-Diner – Kitchens are no longer seen as simply the place where people prepare meals. Families increasingly are spending more time in the kitchen, or certainly at the kitchen table. That's why many buyers put a combined kitchen-diner on their 'must-have' list and why, if you can create one in your home, you should.
For us, a kitchen-diner is important too. Apart from our first home, all others we bought had one. But if you don't have the budget to create one, we would recommend at least looking into it. You can then tell potential buyers how they could create a kitchen-diner.
Our first home was a typical first-time buyer's house with a small kitchen. We knew that our neighbours, who were attached to our house, had created a bigger kitchen by knocking into the entrance hall. They now had space for a dining table in their kitchen.
By showing people viewing our home that it was easy to create a kitchen diner, we overcame the issue of the small kitchen. We sold our house within a weekend.
7. Change Kitchen Cabinets – Better yet, if the cabinets themselves are in good structural condition, save yourself some money and just replace the cabinet doors and worktops. This can give the impression of having a brand-new kitchen but at a fraction of the cost of a complete revamp.
We found that this is an incredible impactful yet cost-effective way to update your kitchen. Even just painting the doors and changing the handles can make a big difference. In our experience, it's often the handles that make a kitchen cabinet look dated.
8. Update The Bathroom – According to many property experts, the kitchen and the bathroom are the two most important rooms in the house.
Therefore, if your bathroom is looking dated, it might be worth having it replaced, although keep in mind that while your home may sell faster, the sale price may not rise by as much as you spend on the bathroom refurb.
9. Use Mirrors Wisely – A well-placed mirror can make a small, dark room feel bigger and lighter. Place them opposite windows, so they can bounce the light around the room and put them at eye-level to give a 'never-ending' feel to a room.
They work particularly well in hallways as people also like to check they look OK before leaving the house.
In one of our houses we sold over the years, the living room was quite dark. An extension was added, which left the living room in the dark without any windows. We placed a large mirror over the fireplace, which reflected the light beautifully.
It was amazing to see how much this simple trick transformed our dark living room.
10. Re-arrange Furniture – You've probably had your furniture laid out in their current positions for years, but that doesn't mean there isn't a better way to position things.
Have a go at moving furniture around to see if you can find another layout that makes the room more practical or feel larger. Don't be afraid to get rid of some furniture if this helps your cause.
We managed to make our bedroom look and feel larger simply by swapping the bed with the wardrobe and dressers. Even though the same furniture stayed in the room, it looked and felt bigger.
That's because with the original set up, the first thing you saw when you walked in was a king-size bed that took up most of the space widthwise. After rearranging, there is now open space when you walk in, which makes the room feel and look bigger.
11. New Blinds & Curtains – Another easy way to revitalise a tired looking room is to replace old blinds and curtains with new ones. Stick to fairly neutral, modern-looking designs to ensure they appeal to as many prospective buyers as possible.
This is one of the first things we do after we decided to sell our house. We walk around and check which of the curtains or blinds look tired, old-fashioned or aren't neural looking. We did find that it can be a bit difficult sometimes to look at them in an objective way.
After all, we bought and put them up because we liked them. One thing we have done before was to ask good friends to give us their honest opinion. Because they didn't choose them and aren't used to seeing them every day, they are much better placed to judge which ones could do with replacing.
12. Use Lampshades – Every light fitting in the house should have either a proper decorative light fitting or a nice, fresh lampshade to make the house feel more like home.
13. Add A Loft Conversion – Extending into the roof space isn't cheap and isn't for the light-hearted; however, when done well, they can add as much as 12% to the value of a home. The extra space can also help you appeal to more buyers, making it one of the best ways to sell your house faster.
14. Convert The Garage – Who uses garages for parking cars these days? Hardly anyone. Therefore, if your garage is attached to your house, consider converting it to turn it into an extra bedroom or living space.
Houses with converted garages tend to sell for around 10%-20% more than similar properties that haven't carried out a conversion. Again, the extra space you create can also help you find a buyer more quickly.
On one of our properties, the garage had been converted into an extra bedroom. While the room felt colder than the others (showing it's worth improving the insulation when you convert!), it certainly added more value to the property than if it had been kept as a garage.
15. Knock Down A Wall – Open-plan living is all the rage now with many people specifically seeking out free-flowing properties where the main living spaces merge into one.
If knocking down walls to create open-plan living is possible, it's worth considering. Just keep in mind that not everyone prefers open-plan living and so it may not be worth the cost. Check with a local estate agent first to get a feel for the desired trend in your area.
16. Uncover Original Features – If you live in an older property, you'll often find that some of the original features have been covered up over time. Beautiful old fireplaces and beams can often be revealed with a little bit of work to make for stunning focal points in a room, adding plenty of character to your home.
Prefer a checklist you can print and keep?
External Improvements
Never underestimate the importance of first impressions. Spending some time improving the exterior of your home will help to boost the kerb appeal of your home.
17. Add Extra Parking – Paving or concreting over part of your front garden to provide additional parking is a great way to appeal to more buyers. Owning a car is no longer a luxury and more than 30% of households now have two or more cars, that's why good parking provisions are a must-have for many house hunters.
18. Add A Juliet Balcony – Juliet balconies are the ones where you have French doors on an upper level protected by a railing. You can't walk out on to them, but they do allow you to let much more light and air into a room, making them popular amongst buyers.
If you have the option of adding a proper balcony, even better! This was something we were fortunate enough to have in our previous house and just about everyone who viewed the house loved it!
19. Add A Conservatory – Perhaps not the cheapest option, but conservatories remain very popular amongst house hunters. In fact, they are said to increase the value of a house by around 7%.
20. Put Up A New House Number – Kerb appeal counts for a lot and putting up a clear, modern house number won't just help people find your house, it will increase its attractiveness to potential buyers too.
This is a very easy and cheap way to increase the curve appeal of your home. We have done it with most of the homes we sold over the years.
21. Refurbish Your Front Door – Sticking with the kerb appeal angle, a tatty front door can give potential buyers the wrong impression before they have even stepped foot in the house! Clean or upgrade the door handles, letterbox, or the whole door itself to ensure you don't put people off.
We found that sometimes a lick of paint can do wonders. And that doesn't just apply to house doors either. In one of the houses we sold, the first thing you saw as you approached was the garage door. It was red, but had seen better days.
Before we put the house on the market, we decided to repaint it. And the difference was amazing as it gave the whole house an uplift.
22. Make Front Gardens Low Maintenance – With busy modern lives, many buyers prefer not to have to spend hours working in their garden, particularly the front garden.
If you can pave or gravel over areas to prevent the need for cutting the lawn or weeding the flower beds, you can make your property a more appealing proposition for potential buyers.
All the houses we have lived in have either had, or we have created a low maintenance front garden. Our reasoning is that we don't spend any time in the front garden so why spent the time making it look perfect? We've always found this was often the thoughts of people viewing properties too.
23. Install Decking – Decking has a number of benefits: it's cheap and simple to install, yet it still looks great and spruces up any garden. It also helps to create a space that needs much less maintenance.
Better yet, decking is thought to add around 2% to the value of a house. Just make sure it's in tip-top condition so that restaining or repairing it doesn't make it on to a prospective buyer's 'to-do' list.
24. Re-lay An Uneven Patio – Whether you can afford to completely replace the patio, or can get away with just pulling up the slabs, re-levelling the ground, and relaying the existing slabs, giving some love to an uneven patio can help you find a buyer and is a great way to sell your house faster
Internal Maintenance
You may have got used to the little quirks of your house, but they will stand out like a sore thumb to potential buyers, so it's best to sort them out before showing viewers around.
25. Fix Dripping Taps – You know that tap that's been dripping so long you've just got used to it? It needs fixing. Dripping taps alone are unlikely to put buyers off, but if combined with other problems it could indicate to a potential buyer that you haven't taken care of the property and there may be other issues yet to be found.
We know it has put us off some properties we looked at. The problem is that if there are many little issues that could have easily been repaired, it gives the impression of a house that hasn't been cared for.
It left us wondering what other bigger issues there are and that haven't been seen too. So we would recommend giving your house a good once-over before putting it on the market and make sure you repair any small issues you can find.
26. Add More Storage – A house with little or no storage can be a turn-off for potential buyers, especially those with children. Look at ways you can add storage with custom-made cupboards or by boarding out the loft space.
The number of houses we have looked at where people have tried to create more rooms by getting rid of storage space is astounding. We have discounted lovely homes that ticked most of our boxes because there was no storage.
We found that an under-stairs cupboard is one of the handiest things. It's the perfect place for things like the vacuum cleaner, mop, toilet paper, cleaning products and so much more.
27. Oil Creaking Doors – Like dripping taps, a creaking door alone shouldn't put a buyer off purchasing your property if it's right for them. However, it's one of those things that's so easy to fix, there's no reason not to do it!
28. Install More Electrical Sockets – You'll need to ensure you use a qualified electrician, but, adding more sockets to a room can help increase the layout options for potential buyers. This can aid their imagination when thinking of where their furniture could go, a vital step towards securing a sale!
29. Check Lightbulbs Work – Replacing any blown or missing light bulbs is simple to do and helps make rooms feel more light and airy.
While it sounds simple and makes sense, we found that it's something most people don't think of. For us, it's part of our routine we have, before we put a house on the market.
30. Replace The Shower Curtain/Screen – Shower curtains and screens usually develop black mould spots over time which makes them look old, uncared for, and possibly unclean. Give them a good scrub, but if the stains won't shift, replace the entire thing!
In my experience there is nothing worse than an old, mouldy shower curtain. Whenever we view houses and I see that I am instantly put off by the whole house. And I guess most people feel the same.
Before we put a house on the market, we perform a deep clean. Trying to get your home as clean as possible is vital, because only then can people imagine living there. And if something just can't be cleaned, like a mouldy shower curtain or screen, it just has to be replaced.
31. Replace Silicone Sealant – Silicone sealant is used around the edges of baths and sinks to create a nicer join and prevent water seeping into unprotected areas. Over time, like with shower curtains, mould spots can appear. Replacing the silicone is a relatively simple job and can make a bathroom or kitchen feel clean and new again.
We found that replacing silicone sealants makes a huge difference. We have done it in bathrooms and kitchens of homes we sold, and it was totally worth it. The amount of times we got comments about how clean our house is, shows that prospective buyers will notice these little things.
32. Replace Misty Windows – If you have condensation that forms between the panes of glass on a double-glazed window, that means they are no longer effectively insulation your house. It also indicates the windows may need replacing soon.
Save your prospective buyers a job by replacing the windows that are misting up. It may even be possible to just have the existing windows resealed, which will save you considerable money.
We found that more often than not resealing is enough. But it's important to get a qualified workman in to assess what is needed.
33. Fix Damp Problems – Damp issues will show themselves as stains, marks, or mould on an internal wall or as 'spongy' feeling floorboards. Usually damp is caused by an external problem such as a leaky gutter or blocked drain.
Solve the cause of the damp first, then rectify the damage. If left untreated, damp can lead to serious issues and so will often put buyers off.
Over the years we had to deal with many damp problems in the various houses we lived in. The causes weren't always easy to spot, which meant we often had to find out by trial and error.
We would highly recommend not leaving fixing any damp problems to when you want to sell your house. The sooner you find the problem and fix it, the easier and cheaper it will be. It also can take months to find out if it was the right solution.
Prefer a checklist you can print and keep?
External Maintenance
You need to create an impression of a well-maintained home to avoid scaring off buyers who may think that smaller issues could lead to finding larger issues once they have moved in.
34. Repoint Cracked Walls – Cracking of external walls is fairly common. It usually indicates that some kind of movement has happened in the past. If this movement is long-standing and non-progressive, repoint the cracks to make the building look like it's been properly cared for.
34. Repair Leaky Guttering – Leaking or blocked gutters can cause significant damp issues if left untreated. Fixing them not only helps avoid this, it also makes your property look like it's in better overall condition.
35. Add Outside Lighting – This is particularly important when the nights draw in and viewings in the dark become commonplace. Outside lighting will make your home look more welcoming from the moment a potential buyer arrives, helping to make the right first impression.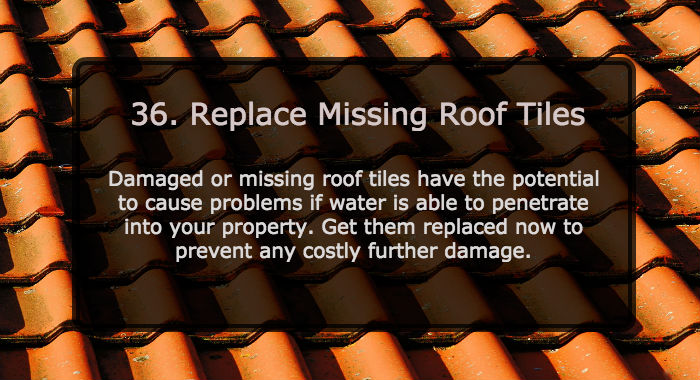 36. Replace Missing Roof Tiles – Damaged or missing roof tiles have the potential to cause problems if water is able to penetrate into your property. Get them replaced now to prevent any costly further damage.
37. Get The Pressure Washer Out – It's amazing how much dirt can accumulate on paths, driveways, patios, and even walls. In fact, you probably won't even realise how dirty things are until you start cleaning them. Use a pressure washer to quickly lift off the dirt and significantly increase the kerb appeal of your home.
This is something we do every time before we put a house on the market. Don't get me wrong, it's a lot of work, but it's worth it. It's also very satisfying, because you can see a difference very quickly.
In one of the houses we lived in, we had grey pyramide-shaped slabs on the corners of our wall in the front garden. After we cleaned them properly, it turned out that they were actually white.
38. Refelt Flat Roofs – If any part of your roof is flat, check whether it's in need of refelting. Properly installed, well-maintained flat roofs can last for 20-25 years.
In some cases, you may be able to paint the flat roof with sealant in order to buy a little more time before a full replacement is required. This is what we were able to do on our deteriorating flat roof since the core roof covering was still in reasonable condition.
39. Clean Fascias – The board which your guttering is attached to is the fascia, while the board underneath is called a soffit. Cleaning the guttering and fascia board is a great way to give the outside of your home a facelift in advance of selling.
40. Check Your Doorbell – The last thing you want is to miss a potential viewing because you didn't hear them at the door! Check your doorbell is working as it should be.
For us this has become almost an obsession, because we had a bad experience. We had one of those wireless doorbells, and it stopped working while our house was on the market. We only noticed though when a delivery driver told us.
It meant that several prospective buyers would have rung the bell, which didn't work, and then had to knock. This isn't a great first impression. So now, whenever we are selling, we check our doorbell periodically to prevent the same from happening.
41. Repair Broken Fences – If your fencing is damaged in some way, make sure you repair it in advance of putting your property on the market. Often you'll be able to repair it without spending much, but be prepared to completely replace the fence or panels if needed.
The Property Listing
The property listing is the advert for your home. It will directly influence how many viewings get booked and the level of offers you receive, so it's important to get it right.
42. Use Online Estate Agents – As the homeowner, you know what it means to live in your property. You can therefore probably do a better job of selling your property than any estate agent (see this video). And that means you may be able to sell your house faster with an online estate agent where you can conduct viewings yourself and make almost instant changes to your property listing.
We have tried both, doing our own viewing and letting an estate agent do them. The result: not a single prospective buyer who was shown around by the estate agent showed any more interest. Almost all the people we showed around either wanted a second viewing or made an offer, one of which was an asking price offer.
For us, this was the only proof we needed to only go with online estate agents, so we can conduct our own viewings. And we haven't regretted it. We firmly believe that estate agents sell houses, but as homeowners, we sell a home. That's what makes the difference.
Online estate agents also tend to have longer opening hours, meaning it's easier for potential buyers to book viewings. If you need some help in choosing the right agent for you, make sure you read our online estate agent reviews.
43. Lower Your Asking Price – Obviously, you'll want to get the highest possible price for your property, so you shouldn't do this unless absolutely necessary. But, if you feel your home is overvalued, or you want to sell quicker, drop your asking price a little to attract more interest.
Reducing your asking price is never a nice feeling, we know what we are talking about. But if you want to sell your home fast, then this is one of the most impactful things you can do.
Ideally though, we would recommend trying to get the price right first time if you want to sell fast. Decide what is the lowest price you want or can accept and discuss it with your estate agent. A house that is on for a good price will always sell fast.
44. Upgrade Your Property Listing – Property portals such as Rightmove offer property listing upgrades to make your listing more visible to potential buyers.
For an additional fee, they can bump it to the top of the search results, highlight it in a different colour, and add various other upgrades. Talk to your estate agent to see what's possible.
We have done it and you can see the difference. When our listing was at the top of the serach results, we got more viewings than when it was further down in the list.
45. Use Better Photographs – Don't think you have to go with the first set of photographs your estate agent produces. If you feel they can get better photos, ask them to redo them or provide your own. Equally, you can try using different photographs as the main image on your property listing to see which one produces the most interest.
In our opinion, good photographs are vital to selling your home fast. They are the first thing potential buyers will see. We always make sure that they are spot on, even if that means asking the estate agent to redo them.
46. Add A Virtual Tour – Make sure you make use of all options on your property listing. If your estate agent offers a virtual tour, get it added to your listing. The more you can do to draw people into booking a viewing, the better.
47. Sell To An Investor – Depending on the type and price of your property, it may appeal to an investor. If you can find an investor who wants to buy your home, the advantage is they'll usually be chain-free and cash buyers, helping the sale go through more quickly. On the downside, you might have to accept a lower price than you would if selling to a normal buyer.
We have sold one of our properties to an investor. They made an asking price offer, which was even better. Dealing with an investor is much easier, because they don't see the house as a home. This means any little issues that a "normal" buyer would pick up on, an investor won't.
The point we were really glad that we sold to an investor was when we had to pull out of our onward purchase. The survey brought up issues we weren't prepared to cope with. When we told our buyer, they just said were happy to wait until we found another property.
Because they weren't planning on moving in, they were much more relaxed about it than most other buyers would have been. One reason for this was that they weren't in a chain so there was no pressure on them.
However, this relaxed attitude did cause us some issues, when we were ready to exchange. It took us two weeks to get them to sign the contract. Being an investor, they were busy and clearly our sale wasn't on top of their agenda.
But we got there in the end and all in all, we had a good experience selling to an investor.
48. Use Social Media – According to research, the average person now spends 1 hour and 40 minutes on social media platforms every single day. That means sharing your property on Facebook, Twitter, and other platforms is a great way to generate additional exposure for your home.
49. Sell At An Auction – Like selling directly to an investor, property auctions mean you might have to accept a slightly lower price for your property than if you find a buyer on the open market. However, despite that, property auctions are one of the best ways to sell your house quickly so shouldn't be entirely discounted.
Prefer a checklist you can print and keep?
Internal Staging For Viewings
To successfully sell your home, buyers need to feel like it's already theirs as soon as they walk in. Correctly staging your home for viewings will help to increase the likelihood of someone falling head over heels for your home.
50. Take Magnets Off The Fridge – If you have magnets, photos, or even children's drawings stuck to your fridge, remove them for viewings. Doing so helps to de-personalise your home, making it easier for potential buyers to imagine themselves living there.
We pack such personal items before putting the house on the market to ensure that the pictures look like a house potential buyers can feel at home, rather than like looking at someone else's home.
51. Clear Kitchen Counters – Removing as many things from the kitchen worktops as possible will help to create a tidier, more spacious looking kitchen and help show you are not pushed for storage space.
It's amazing what a difference this can make. If you are pushed for space to store items you have on the worktops, we have great tip: pack things in cupboards that you can do without for a few months. This frees up space in cabinets to store anything you have on the worktops.
52. Remove Personal Photos – This is really important but overlooked by many sellers. Like removing fridge magnets, taking down personal photos during viewings will make it easier for potential buyers to picture their own photos and furniture in the property.
We love having photos up from our travels and the more special moments in our lives. It's one of the things that makes our house our home.
But this also means that potential buyers won't be able to imagine themselves living there as easily. We invest in cheap pictures that we can put up in place for our personal pictures. Because you don't want your walls to look bare either.
53. Put Beds In Bedrooms – If you're currently using a bedroom as a study, storage room, or anything that isn't a bedroom, it's time to revert it back to its intended use.
Placing a bed in a bedroom makes it much easier for people to imagine the room as a bedroom and get a sense for how much space is available in the room once a bed is in there.
Working from home, we converted bedrooms into offices. But when we sell a house, we either buy a cheap bed or pull out the sofa bed for viewings. We found that this helps people to see the potential of the room rather than just what it is as our offices.
54. Have A Spring Clean – Get right into the nooks and crannies of every room to dust away dirt and cobwebs. Doing so will create a cleaner, fresher environment and show you are house-proud and have taken care of your home.
We hate doing it, but in our experience it is worth doing it. We always get comments when we do viewings about how clean and tidy our home is.
Another good tip: keep your house spotless during the period you have viewings. We know that this can be difficult when you live a busy live, but it's worth it.
55. Declutter – One of the single, most effective ways to sell your house faster is to have a full declutter and sell or dispose of any unwanted items or furniture. Doing so will help de-personalise your home, make it look larger, and make your job of packing much easier!
That's something we have always done before we put any house of ours on the market. It's astonishing how much stuff you accumulate in a matter of a few years.
It might sound like a lot of work, but see it this way: you don't want to move things you don't actually use any more. We are quite ruthless when it comes to decluttering: if we can't remember using something it, or it has been over a year, it goes.
We apply this to everything: clothes, kids' toys (with their help of course), pets' toys, plates, mugs, books, ornaments, etc.
56. Start Packing – Similar to decluttering, if you have places where you can store boxes out of sight, it's never too early to start packing a few non-essential items.
Packing early will have a similar effect as decluttering, but will also help you move more quickly when an offer does come in. Just don't overdo it and leave your house looking empty and soulless!
The way we decide what to pack early is by asking:
Can we live without it for at least 6 months?
Does it personalise the room too much?
Will the room look bare without it?
As you can see, we take it very seriously, but for us it worked very well in the past.
57. Turn Up The Heating – If the weather outside is frightful, it's time to make your home delightful! When potential buyers come out from the cold into your nicely warmed property, they'll immediately feel more welcome and more at home. It also helps to show your heating system is in full working order.
We know from our own experience that a cold house can put buyers off. We once looked a house that ticked all the boxes on paper, but we just didn't feel like it was the right house for us.
It was only much later that we realised, it was because the owner had a workman in to repair one of the windows while we were viewing the house. Because he had to leave the window open, the house was very cold.
58. Put Bread In The Oven – The smell of freshly made bread has long been known to influence our buying behaviour. That's why supermarkets often deliberately let the smell drift around their store and why estate agents often recommend baking bread just before a potential buyer arrives.
If you don't have time to make a dough, the part-baked loaves of bread you can buy at the supermarket are a good compromise.
59. Use Air Fresheners – Most homes have a distinctive smell, but as the owner, you probably don't notice it. It's not necessarily a bad smell, but it's still worth using air fresheners to help make your home more inviting. This is particularly important if you have pets that could cause odours.
It is part of our pre-viewing routine. We have a checklist on our phone that we can tick off to make sure we don't forget anything.
60. Turn On Lights – If a property feels dark, it can also feel colder and smaller. Even the lightest room can feel a little dark on overcast days. Turn on lights throughout the house just before a viewing to ensure your home feels warm, light, and welcoming.
Another of the things that is on our pre-viewing checklist.
61. Open Blinds – Similar to turning on lights, making sure all blinds are open will help make your home look more light and airy as the natural light floods in.
62. Play Calming Background Music – Music is used all around the world to set the right atmosphere in bars, restaurants, and even shops, so, why should your home be any different?
Playing gentle, calming music in the background as you show people around your home helps people relax and feel at home.
63. Remove Pet Bowls, Toys, And Bedding – Have a quick sweep around your house before a viewing appointment arrives and pick up and items belonging to your pets. They not only make rooms look untidy but can also omit pet odours that will put some buyers off.
On that note, I would also recommend keeping any pets close to you. We always picked up the cat and carried her around. This would ensure that she wouldn't get under the potential buyers feet. She was very nosy and always wanted to be in on the action.
We also always make sure that anyone coming to view our house is aware that we have cats, in case they are allergic, so they can take precaution.
If you have an over-excited dog, you might want to consider going for a walk with it while a viewing is happening.
64. Get A New Doormat – Doormats are one of those things that are easy to get used to, even when they are dirty or in poor condition. Yet, they are one of the first things a visitor to your home will see.
Making sure you have a nice new, clean, doormat helps to give the right impression the moment (literally!) someone steps through the door.
65. Put Fresh Flowers On Tables – Flowers are great at brightening up a room and adding a subtle, natural fragrance. Use them to your advantage and place them in the centre of a table, on a sideboard, or on the mantelpiece for best effect.
66. Clean The Oven – A clean oven is a sign that you have cared for your property and the items in it, and yes, some people DO check inside ovens during viewings! Make sure it's clean and sparkling to create the right impression.
67. Polish Door Handles – Dirt and finger marks on door handles is a big turn-off for many potential buyers. If your door handles are looking a little grubby, make sure you give them a good clean and polish to bring back a bit of sparkle!
68. Wash And Put Away Pots – Leaving dirty plates out on kitchen worktops is a big 'no-no' when showing potential buyers around your house. They signify a lack of love for the property and can make it look like there isn't enough storage space.
69. Turn Off The TV – Unless you want to deliberately mask noise from outside (in which case, see tip 62), turn the TV off to give viewers a chance to really image themselves living there.
We have viewed a property where the husband was watching TV while his wife showed us around. This made us feel unwelcome and like we were intruding.
Because it made us feel like visitors, and unwanted ones at that, we couldn't imagine living there. As you may have guessed, we didn't buy the house.
70. Get A Smaller TV – As technology has improved, our television sets have got larger and larger. And, a large TV makes a room look smaller so downgrade at least for a little while to avoid people dismissing your property as too small.
71. Make Sure All Rooms Have A Purpose – And no, a storage room does not have a purpose! You want to give people creative ideas about how space can be used; they'll find that harder to do if a room is unused or just being used for an unusual purpose.
72. Freshen Up Your Sofa With A Throw – Worn or tatty sofas can be brought back to life with a nice new throw to cover any unsightly bits and give a better first impression when someone enters a room.
Prefer a checklist you can print and keep?
External Staging For Viewings
As soon as a potential buyer pulls up outside your home, they are already judging it to make sure it's right for them. Making sure it looks at its best from the moment they arrive is key to finding a buyer fast.
73. Mow The Lawn – Long, uncut grass gives the impression your home is uncared for and may have hidden issues. Therefore, cut the grass regularly, particularly if you have a front lawn, so that you create the correct first impression.
74. Plant New Flowers – The colours and smells of fresh new flowers growing in your borders will brighten up your garden and ensure your outside space is welcoming and appealing to potential buyers.
75. Restain Sheds & Fences – Nothing makes a garden look old and unkempt than sheds and fences that haven't been restained or treated for years. A fresh link of wood stain or paint works wonders on the overall look of your garden.
76. Weed The Garden – Who wants a garden full of weeds? It's one of those tedious jobs we'd all rather not do, but having a good weeding session before a viewing is like giving your garden an instant facelift.
77. Clean The Windows – A layer of dirt on your windows and window frames instantly gives the impression your house has been left to deteriorate. Don't let that put off potential buyers: get the squeegee out!
In one of the houses we sold over the years, we had a huge window in the living room, giving out over the garden. It was the main selling point of the whole house. So it was important that the window was spotless for every viewing.
This meant we cleaned it once a week, while the other windows got cleaned if we felt they needed it. It's a lot of work, but it's worth it in the end.
78. Tidy The Garage – For some reason, many sellers forget that a buyer may want to see inside the garage. A tidy garage shows you are organised and have everything in order – attractive qualities when it comes to progressing a sale.
We have viewed many houses over the years where the owners have used the garage as a storage room. This in itself isn't a problem, but most of them were really untidy. With some you couldn't even be sure how big the garage was.
It made us feel like the owners had something to hide behind all that stuff and we were more likely to discount a house if the garage was untidy or messy.
79. Trim Overgrown Bushes – Keeping bushes neat and tidy helps to create a better impression. That said, it's best to avoid trimming bushes between March and August when birds may be nesting inside.
80. Hide Wheelie Bins – We know you can't make them disappear, but placing wheelie bins somewhere discreet creates a better impression.
Try and avoid leaving them on display at the front of the house. If needed, buy purpose-built wheelie bin storage to keep bins hidden.
81. Check Your Neighbours Gardens – We know this can be tricky but if your neighbour has an untidy garden, it could put someone off buying your house. Offer to have a tidy up for them if necessary.
The Viewing
'Selling' your property during a viewing is vital to achieving a sale. The good news is, you're probably much better at it than you think!
82. Include 'Extras' – To encourage a quicker sale or attract a higher sales price you can include extra items such as sofas, sheds, white goods, etc in the sale.
Buyers may like the fact they can save themselves money on some furnishings, and you end up with one less thing to move or sell. It's win-win!
83. Move Pets – We don't mean permanently! Making provisions for someone to look after your pets during viewings can stop them putting off buyers who aren't into pets.
You should also consider that the potential buyer might be scared of dogs or be allergic to pet hair. We always told people who came to view our homes that we had cats, in case they are allergic.
During the viewings we kept them out of the way, so the viewers could focus on falling in love with our property rather than admiring our pets.
Depending on your pet, you might want to give them to someone to look after during a viewing, or you can try keeping it close to you, so you can ensure they won't cause any mischief. Having friends who can take them in for an afternoon is the best option, in our opinion.
But we realise that this isn't always possible, so do what works best for your pet and potential buyers.
84. Know Your Area – The more you know about your local surroundings, the better you'll be able to 'sell' your property during viewings. It's, therefore, one of the most powerful ways to sell your house faster.
Before we put any house on the market we made a list of any benefits of the area. Whether this is excellent schools, a green space close by, amenities or public transport. For example, the last home we sold was close to a small shopping street, with a post office, Sainsbury's local, a butcher and a nice restaurant.
When we did viewings we made sure to mention how handy it is to be able to pop to the shops if we run out of something. Or the nice meals we had at the restaurant. It made the area, and with that our house, more attractive.
85. Know Your Property – Likewise, the more you know about your home, the type of heating you have, when the extension was added, and so on, the better you'll be able to 'sell' your home.
86. Know Your Buyer – Understanding exactly what your potential buyer is looking for is vital if you want to be able to point out the best bits of your house that they'll be interested in.
The best way to find out about your buyer is by natural conversation. We tend to start off our viewings with the question "So why do you want to move?"
It's a perfectly natural question in the situation and it tends to yield a lot of information. For example, you can find out if the prospective buyers are looking to up- or downsize. This is great information, because it means you can focus on what will appeal to them during the viewing.
87. Understand Benefits – When you show people around your property, be sure to mention the benefits of any features you point out. For instance, the new combi boiler you just had installed isn't just a new boiler, it's more efficient so saves money on heating bills.
Remember that it's the benefits that really sell something to a prospective buyer, not the features. You can read more about this in our article on how to conduct your own viewings.
88. Host An Open House – An open house is where, rather than having specific time slots for each viewing, you allow everyone who is interested to turn up and view the property during a specific time slot.
The advantage of an open house is that multiple people will be looking at the property at once, that adds some competition and fear of missing out, which helps to get more offers and drive up the price.
89. Printed Brochures – House hunters will often view more than one property on the same day. Therefore, having a properly prepared printed sales brochure at hand means your viewers can take something away to remind them what your property offered.
90. Use A 'For Sale' Board – A 'For Sale' board is a great way to advertise your property for sale to passers-by. In fact, you would be surprised at how many people book viewings after driving past a 'For Sale' board.
91. Check Out The Competition – If any of your neighbouring properties are up for sale, be sure to check out their property listings to see how they differ from your home.
That helps you understand what you're up against and ensures you know how to put your property in the best possible light compared to your neighbours.
92. Be Ready For Unexpected Viewings – Once your property is on the market, it's not unusual for you to get last-minute viewing requests. By ensuring your house is always well-presented, you won't have to turn any of these viewings away.
We found that this is the most stressful and work-intensive part of selling a home. From the day any of our houses went on the market to the day we accepted an offer, we were constantly cleaning, tidying and making sure all looked perfect.
But we know that it's one of the most important things when selling your home, it looking tidy, welcoming and inviting. So in the end, it's worth the hassle.
93. Leave Your Driveway Free – When someone views your property, you want them to feel like they already live there. That will allow them to fall in love and put in an offer. Leave your driveway free for them to use to enhance the feeling it's already theirs.
94. Arrange Viewings For The Right Time – There are probably good times and bad times for people to view your property. If you live near a school, this could be during school rush hour when parking becomes difficult. If you live near a pub, this could be a Saturday evening when things can get a little rowdy.
Think about what times of day would put your property in a lesser light and try and avoid arranging viewings for these times.
We lived both near a school and a pub. And while you might not notice any more after living there for several years, a prospective buyer will.
During the school run, our street was full of parked cars from parents picking up their kids. We often had cars parked across our drive, which was really annoying. If we had had a viewing during this time, any potential buyer would have been put off straight away.
Make sure you area aware of these things so you can make the right arrangements.
95. Put The Kettle On – Again, you want people to feel at home when they view your property. So, one of the best ways to sell your house faster is to offer them a cup of tea or coffee when they arrive so that they feel more at home.
96. Don't Leave A House Empty – Many people lack the imagination needed to picture how a property will look with furniture in. That's why in new builds, there's always a fully furnished show home you can view.
So, don't leave a house or even a room completely empty. If you need to, pick up bargains from charity shops or freebies from places such as Freecycle in order to kit out an empty property.
Prefer a checklist you can print and keep?
Helping The Sales Process
There are several things you can do to help speed up the process and ensure a quick sale even once an offer has been accepted.
97. Move Into Rented Accommodation – Your house instantly becomes more attractive to buyers if you're not in a chain. Not only that, taking yourself out of a chain by agreeing to move into rented accommodation means at least one fewer cog in the chain that could break and cause the sale to fall through.
It also means there are few complications likely to slow the whole process down, allowing you to reach the point of exchange far, far quicker.
98. Conduct A Survey – If you do decide to stay in a chain and find somewhere to move to, make sure you get a survey carried out as quickly as possible to show you are serious and give yourself plenty of time to deal with any issues it highlights.
You could also conduct a survey on your own property and provide it to the buyer in order to avoid having to wait for them to carry out their own, thus speeding up the process. Just be sure to use a fully qualified chartered surveyor.
99. Appoint A Solicitor – The earlier you can appoint a solicitor to handle the conveyancing process for you, the better. Even if you're not ready to give them the go-ahead yet, at least do your homework now, so you can move faster when you are.
100. Apply For Planning Permission – If your property is likely to attract buyers who will want to develop the property through an extension or other work that would require planning permission, apply for it in advance.
Not only could this add a substantial amount to the value of your home, it could also help the sales process go more smoothly once you've accepted an offer.
101. Keep The Pressure On – You might need to regularly chase your estate agent and/or solicitor in order to keep things moving forward. Don't be afraid to put the pressure on to keep the sale on track.
Phew! You made it! So, that's a massive list of 101 ways to sell your house faster. It might be a long list, but it's still not a comprehensive list.
Get creative and think logically and you may come up with even more ways to sell your house faster!
Prefer a checklist you can print and keep?