From fencing to decking, lush lawns to colourful borders, a well-cared for garden is a welcome addition to any home.
To make sure your garden looks its very best you will need to carry out regular maintenance. Looking after hedges and shrubs is hard work, especially if you have a large garden, overgrown greenery or towering bushes to prune.
Fortunately, there's an arsenal of gardening tools available to help you get the job done, including the best long reach hedge trimmer.
Our Recommended 5 Best Long Reach Hedge Trimmers
We've Featured In:



A long reach hedge trimmer can be used to get to those hard to reach areas. This handy garden tool will save you time and effort, and we think you will find it a useful addition to your garden shed.
But, with so many different makes and models available how do you choose the best long reach hedge trimmer to suit your needs?
We've explored a few options for you identified five of the best on the market:
#1: Greenworks Cordless Pruner and Telescopic Hedge Trimmer
Check current stock levels, price, and reviews on Amazon
Features:
Operated by a Li-Ion 40 V battery
Item weight 7.5 Kg
70 minutes (approx.) running time
Hedge trimmer:
7 position swivel head for precision alignment
Laser cut steel blade
51 cm sword length with 18mm cutting thickness
Telescopic chainsaw:
20cm sword length
Electric chain brake
2.4m extending pole length
Quick switch between both functions
Things to Consider:
Battery and charger not included with this product
Greenworks batteries are versatile and can be used across the range
This is our current pick for the best long reach hedge trimmer
#2: Mountfield Petrol 3-in-1 Garden Multi Tool
Check current stock levels, price, and reviews on Amazon
Features:
3 tools in one (grass trimmer, hedge trimmer, and brushcutter)
Powered by two stroke 25.4cc petrol engine
Quick-change attachments
Ergonomic grip and harness
Strimmer has handy 'tap & go' wire attachment
Double 180 degree hedge trimmer with 40cm cutting length
Cuts through branches up to 25mm thick
Extends to reach heights of 221cm
Brushcutter has 3-toothed metal blade for cutting tough vegetation
Things to Consider:
You will need to purchase 2 Stroke Oil, Mix 50/1 to keep the engine lubricated to use with this product
This is our 2nd best pick for the best long reach hedge trimmer in the UK
Sale
#3: VonHaus Cordless Pole Hedge Trimmer
Check current stock levels, price, and reviews on Amazon
Features:
20V 1.5AH battery (60-minute charge time) plus charger
Soft grip handle and shoulder strap
Blade cover
410mm cutting length
Telescopic pole extends to 2.44m
45cm dual action laser cut blades
Adjustable head for precise vertical and horizontal cutting
Product weight 5.82KG
Safety trigger
Hand protector shield
2 Year Warranty Included
Things to consider:
This is a robust garden tool, so it might be a little heavy for some (especially when raised up to trim at height)
#4: Einhell 3410865 Pole Hedge Solo Telescopic Trimmer
Check current stock levels, price, and reviews on Amazon
Features:
Powered by an 18V Lithium ion battery (included)
Battery level indicator
Metal gearbox
Adjustable motor head with 7 settings
Adjustable main handle with 4 settings
Product weight 4.92 Kg
High speed charger included
Laser cut and diamond grinded steel blade
Adjustable telescopic handle
Things to Consider:
The Einhell is a powerful tool, but can be weighty if you are holding it at height to cut and trim.
#5: Ryobi ONE+ 18V RPT184520 Cordless Pole Hedge Trimmer
Check current stock levels, price, and reviews on Amazon
Features:
18V motor
Product weight 6.4 KG
45cm diamond ground blades
18mm blade gap
115 degrees articulating cutting head with 4 positions
Removable extension shaft (2.9m)
Includes 1×2.0Ah battery and 60 min charger
blade sheath and shoulder strap
Things to Consider:
Another robust garden tool that can power through a job, but it might prove a little heavy if you're holding it up above your head to cut.
Sale
What Should I Look for When Buying A Hedge Trimmer?
You will no doubt want to invest in the best pole hedge trimmer available within your budget. The five tools we have listed here are designed to save you time and effort, and they have a range of features.
So, what should you look for if you are thinking of investing in the best long reach hedge trimmer?
Versatility
Two of the hedge trimmers we have listed are multi-purpose tools – which means they are very versatile. Buying one tool that can be used in a number of different ways will save you money (why buy an array of different gardening tools when just one will do)?
Multi-purpose tools can also save you tons of space. Instead of trying to find room in your shed or garage for two or three tools you just need to find a suitable space for one.
It's worth checking what attachments your multi-function hedge trimmer comes with e.g. does it come with a strimmer, pruner chainsaw, brush cutter etc. The best long reach hedge trimmer will often come with a chainsaw attachment.
Whilst this attachment isn't designed to replace a robust standalone saw, it does come in handy. You can use the chainsaw attachment to hack back any thicker branches.
Scope and Range
As you are purchasing a long reach hedge trimmer to get to high or difficult-to reach places in your garden it makes sense to invest in a tool that has sufficient scope.
Look at the type and length of shaft provided, is it a fixed pole (check the length) or is it telescopic (if so how far does it extend)?
Weight and Safety
Long reach hedge trimmers can be on the heavy side. These robust tools are designed for power and durability, so shouldn't be flimsy.
That said, heavy tools can be tricky to manoeuvre, and holding a weighty trimmer up to cut high branches and twigs can be tiring. Some tools are supplied with carry straps and soft grip handles to ease the strain.
Power and Running Time
Petrol hedge trimmers will run according to how much fuel they have, top them up and they will continue to operate.
Battery operated long reach hedge trimmers will run for as long as the battery allows, but you will need to remember to charge your battery before you head out to trim.
The manufacturer often specifies the approximate running time, so do check the product description.
How Does A Long Reach Hedge Trimmer Work?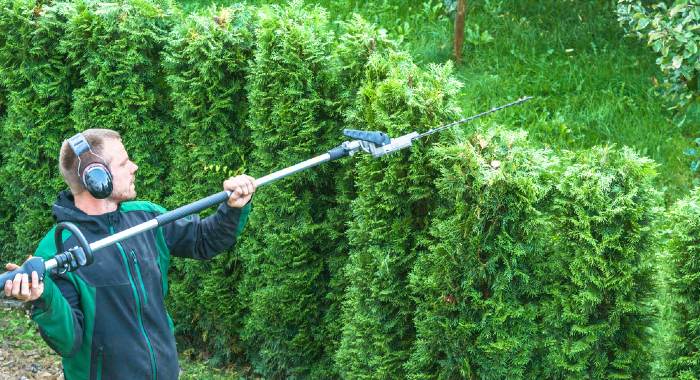 A long reach hedge trimmer (also known as a telescopic or a pole hedge trimmer) works in the same way as a regular one, with one exception.
This tool has an extendable or fixed shaft that allows you to cut back hedges and bushes that are high up (above head height).
This is great news if you are trying to get to grips with tall shrubs and hedges, as you can trim your greenery from the safety of the ground.
Long reach hedge trimmers can be powered by battery, petrol of electric (we will explore the pros and cons of the three types later). The trimmer is fitted with a single action blade (one blade stays still while the other moves) or a dual action one (two moving in opposing directions).
The blades have small teeth, with spaces between each, larger spaces indicate the trimmer is suited to heavy duty trimming.
Once the trimmer is switched on the blades begin to spin. This spinning movement produces a cutting motion, allowing you trim and prune until you have a perfectly manicured garden.
Petrol Vs Electric Vs Battery Long Reach Hedge Trimmer
Our five top picks for the best long reach hedge trimmer include four battery powered models and petrol powered one. We haven't listed any electric models, but you can opt for one of these if you prefer.
Do your research though, check out the main features and get the lowdown on the products available e.g. what is the most powerful electric hedge trimmer?
Before you make your mind up, let's examine the pros and cons of the different types of long reach hedge trimmers available.
Electric Long Reach Hedge Trimmers
Electric long reach hedge trimmers are plugged into the mains and have an indefinite running time. You don't have to worry about filling the trimmer up with petrol or charging a battery – you simply plug in and go.
However, there are a few downsides. For a start, corded tools can be quite cumbersome. You can only go as far as the wire allows, if you want to go further you have to rely on an extension lead. You also have to take care when working, as trailing wires can be hazardous.
Petrol Long Reach Hedge Trimmers
Petrol long reach hedge trimmers are cordless. This gives the freedom to move around your garden and work wherever you want to.
However, you will need to purchase fuel and top up your trimmer when you want to use it. Petrol tools also give off harmful emissions, so they aren't the greenest choice.
Battery Powered Long Reach Hedge Trimmers
Just like the electric long reach hedge trimmers, battery powered long reach hedge trimmers are fume free. There's also the added bonus that there are no wires to worry about.
This enables you to roam you around the garden without any restrictions. You must remember to charge the battery before you get to work, but once that's done you are ready to go.
In the past people were put off by battery powered tools due to the risk of loss of power before the task was complete. Nowadays batteries are more advanced and many tools and portable devices use lithium-ion (li-on) batteries.
These more advanced batteries are rechargeable and have a high-power density, they tend to have a long life-span too.
If you're still concerned about running out of juice mid-trim you could buy another battery. Charge one battery while you use the other just in case.
Remember to check whether the best long reach hedge trimmer you are interested in is supplied with a battery and charger – if it isn't you will need to buy these too.
How long do hedge trimmer blades last?
With normal use and proper care an maintenance, most hedge trimmer blades will last for several years.
However, even the best long reach hedge trimmer will need its blades sharpened and lubricated from time to time. Most manufacturers recommend sharpening is done after around 50 hours of use (lubrication should be checked and topped up as needed before each use).
50 hours may not sound like much but you're unlikely to need to use your trimmer for more than 30-60 minutes at a time. It's likely you won't reach 50 hours usage for at least 1-2 years!
Be careful not to try and cut through branches that are too thick though. Doing so can drastically shorten the life of your hedge trimmer blades. In some cases, you can even damage them beyond repair.
Which is the best long reach hedge trimmer?
We've looked into how hedge trimmers work, we've explored the pros and cons of petrol, electric and battery powered tools and we have identified a few of the key features you should look for when you are choosing the best long reach hedge trimmer. So, we're hoping you are feeling more clued up!
The five long reach hedge trimmers we've picked out all have their merits. The Greenworks Cordless Pruner and Telescopic Hedge Trimmer offers versatility – as it's a pruner and trimmer you are getting two tools for the price of one. This powerful petrol strimmer will get the job done in no time.
If you prefer the idea of a battery powered long reach hedge trimmer, you're not short on choice. The Mountfield 3-in-1 garden tool uses a powerful 2 stroke petrol engine that helps cut through branches quickly. This multi-function tool has a trimmer, strimmer, and a brushcutter too.
There's also the VonHaus Cordless Pole Hedge Trimmer which combines power with precision cutting. Make light work of thick branches and make use of the adjustable features. There's an adjustable motor head and handle, so you can tailor the product to fit your needs.
How about the Einhell 3410865 Pole Hedge Solo Telescopic Trimmer? A well-designed tool that has laser cut blades, and a four-position cutting head for precision results. Finally there's the Ryobi ONE+ Cordless Pole Hedge Trimmer with its diamond ground blades, again this product will give you a sharp, precision cut.
We suggest you weigh up each product for yourself. Select the best pole hedge trimmer based upon your budget, reputation and the features you are looking for. We like all five of the products we have looked at, and we feel all of them could make a positive contribution to your garden.
The Best Long Reach Hedge Trimmers Available In The UK